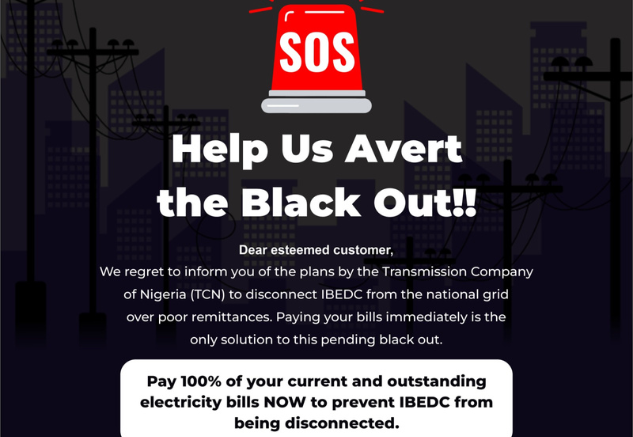 IMMINENT DISCONNECTION OF POWER SUPPLY
The Management of Ibadan Electricity Distribution company (IBEDC) Plc regrets to inform its esteemed customers that the Market Operator, a unit in the Transmission Company of Nigeria (TCN), is planning to disconnect its feeders from the national grid due to poor remittances.
A statement signed by the MD/CEO of the company, Engr. Kingsley Achife said this disconnection may result in power outages to customers within IBEDC franchise area.
"As a revenue collection arm of the electricity value chain, IBEDC sells and distributes electricity generated by the generation companies. However, the company is unable to meet its financial obligations to the electricity value chain due to poor payment and huge outstanding bills by customers" The MD said.
"We appeal to our esteemed customers to pay their current and outstanding bills to enable IBEDC to meet its obligations to the Market Operator and other parties in the electricity supply industry to ensure continuous and uninterrupted power supply"
He also explained that IBEDC as a responsible corporate organization, prioritizes providing reliable and excellent service to its esteemed customers, but requires timely payment for the energy consumed. "Payment for electricity is essential to ensure the sustainability of our operations, and it is a responsibility that we all share.
We urge our customers to note that failure to pay current and outstanding electricity bills may result in disruption of power to homes, communities, and businesses connected to our network".
We encourage all customers to pay their bills promptly to avoid any inconvenience.
Our Mission
Distributing power, changing lives
Our Vision
To be the best power distribution company in Nigeria